One of the best perks of my job is the ability to sit in on a variety of classes, especially when guest lecturers or students present. As a student I was one of those people who was always early and always in the front row. Now, I generally sneak in and grab a seat in the back just as class is starting. My office is conveniently located about 20 feet from the classroom. Sitting the back helps me to remember that I am a guest and not a participant.
Last week, David Laube, who serves on the advisory board for the Business School and who literally wrote the Text Book
for one of my classes (IT Management), gave a lecture in our Business Plans and Seed Financing course. This was one of the few classes I did not take as a student, so it was fun to sit in. Dave spoke on two major topics with the first leading into the second.
Apparently there are four key attributes that are desirable to companies recruiting business school graduates. None of these were surprising but the rank order was somewhat remarkable.
Communication and Interpersonal Skills
Ability to work well within a Team
Personal Ethics and Integrity
Analytical and Problem Solving Skills (note: while these may be critical, they are also considered implicit)
The real key here is that communication and presentation skills can make or break your career. Dave told several stories of colleagues whose careers plateaued or crashed and burned due to their inadequate presentation and communication skills. Don't let this be you.
While I'm not going to reiterate his specific presentation advice here (come take his class!), I will share a model he uses to think about communication and presentation. He shared a theory on social styles that I had not seen before. It's similar to Myers Briggs and Insights, both of which I've written about before.  Apparently all of us develop a preferred style in adolescence. This is innate and cannot be changed. These four types (Analytical, Driver, Amiable, and Expressive) are equally prevalent in the population, with about 25% of us in each quadrant. If you're interested, Dave is a Driver. He leads, and when frustrated becomes autocratic. Most of the scientists I've interacted with are analytical, with a tendency to avoid interaction if pressured.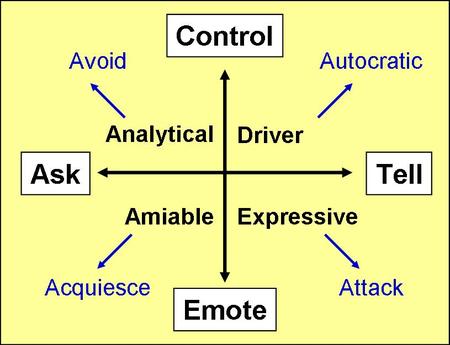 Interestingly, none of these social styles are correlated to business success.
The important skill is one's ability to be versatile and utilize other styles when needed. If your boss is a Driver, you must start with the summary; get to the point first. Let her ask for facts and data if she wants it. Most importantly, let that person lead your presentation. If your boss is an analytic, you must have FACTS and DATA to back up your presentation.  The ability to be versatile and adapt your style depending on your audience is strongly correlated with career success.
Final bit of advice from Dave, tailor your presentation to the most important person in the room. You might need to do your homework to learn his or her preferred communication style but your success will be worth the effort.