I turned 50 in March. I tend to write up annual reviews, e.g. 2016, 2017, but I wanted to take a larger look, what were the big milestones of my last decade?
Turning 40 hit me hard. I knew I'd pretty much reached the mid-point of my useful lifespan. My mid-life crisis was a bit extreme. I got the convertible (still have it) and filed for divorce. I learned many things and made a number of other irrevocable life choices:
I realized I'd never have children and got my tubes tied.
I had Lasik.
I'm fixing the alignment of my bite with Invisaligns.
I kept running.
I sold a house, moved at least 5 times, and finally bought a townhouse. PODS.com is fantastic for those months you need to put everything in storage while you are in transition. I used them several times.
I realized life is very short and unpredictable.
I travelled to many places for the first time: Tokyo, Maine, Hawaii (Big Island, Oahu, Kauai, Maui), Guam, Napa Valley, Wyoming, New Zealand, Singapore, China, Hong Kong,and Thailand.
I got my concealed carry permit. I work in a secured facility so rarely carry.
I spent 8.5 years in a relationship that challenged and inspired me – to be better, to strive to accomplish more. The relationship ended abruptly. I never felt good enough, as is, during all of that time. There was always something that needed to improve.
I got serious about fitness. I found mine.
I learned that many people I thought were friends, were only acquaintances or friendly because of positions/jobs I held.
As I think about my upcoming decade, my 50s, I am ready:
to stop apologizing for who I am
to not define myself by the job/role I currently have
to live happy and seek joy, perhaps even love
to stop waiting for permission (from whom?!). What holds me back?!
to get out of my own bloody way
to get serious about retirement planning (yep I'm late!)
to balance my frugality and extravagance (yes it's perfectly logical to pack a lunch daily, and forego a daily Starbucks to buy a $350 bottle of wine for my birthday dinner)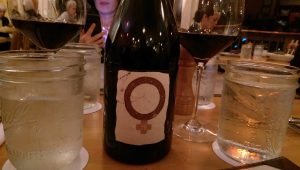 I am reminded of a life-lesson I thought I learned but needed to reread.
…tears that one sheds for the unspeakable tragedies that befall any of us as humans, are the only ones worth shedding…not self pity or lamenting mistakes we may have made along our individual journeys…the true tragedy of life is that it can be taken from us at any time and that we may have not lived what time we had to our fullest…filled with passion for all things we love. 
I am curious to learn what secrets and wisdom my 50s will reveal. What life lessons would you share?