My husband and I embarked on a home improvement project several weeks ago. We thought it would be easy. Change out the vanity, mirror, lighting and flooring. It was supposed to only take the 4 day Thanksgiving weekend. That of course was our plan before we began.
We were optimistic until we found the water damage when we'd pulled out the sink and began to rip up the vinyl.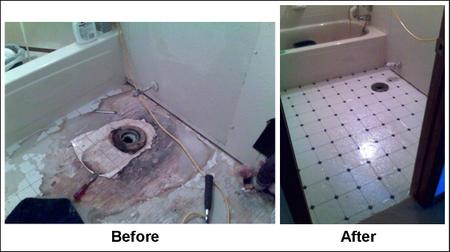 You can see that we ended up removing the toilet as there was water damage near it. We had our neighbor, who is a plumber, give us advice on whether we needed to replace the boards. Although slightly moldy, the boards were strong. I bleached everything over night. Then the scraping of old flooring adhesive began. The scraping continued over several days to prepare the floor for the new vinyl. As you can see, the floor gleamed with the replacement. If you did not know, toilets are sealed to the drain with wax. While we cleaned this ourselves, I strongly encourage you to invest in a professional.
Over the last few weeks, we've been slowly reassembling our bathroom. All of the wall holes were filled, sanded and repainted. All of the seams were recaulked. We put the old toilet back in, with all new gaskets and water shut-offs. We installed a new vanity and new sink. It took a few frustrating tries before our new sink did not leak at the drain. We installed a new mirrored cabinet and new lighting. We installed all new moldings and new fixtures. There is still a small hole in the drywall I need to fix above the cabinet from where the wires for the old lighting were pulled through.
It was difficult to get a great picture in our tiny bathroom but perhaps you can get the idea. It is so very much nicer.