My new office overlooks the 16th street mall in downtown Denver.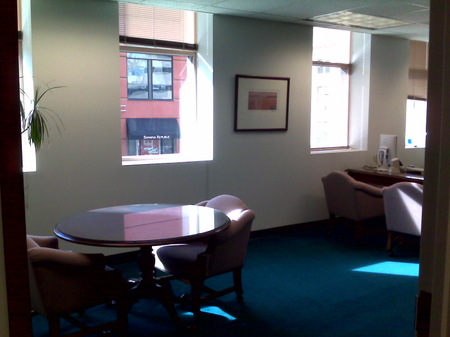 I have not made many changes to my office yet except to bring in a coffee maker. The first image  is what you see when you walk in the door. My old office had brick walls on the inside. I'm enjoying the change. Today I came back from a meeting over in the main business school building and walked into a big surprise.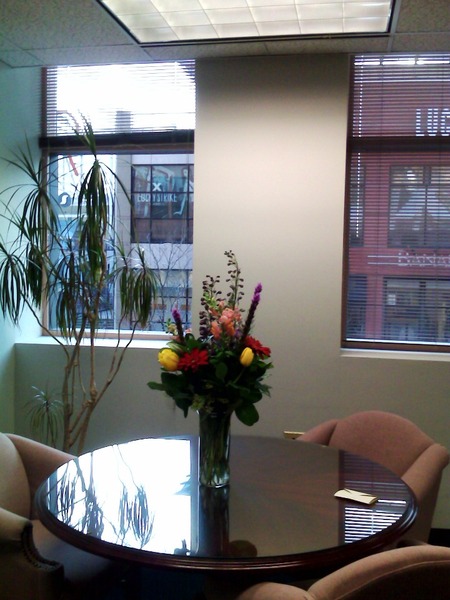 The enclosed note was from my "friends at Fairfield and Woods" wishing me success in my new position.
It completely made my day. I had run into one of my friends from Fairfield and Woods at the awards event for the Technology Transfer Office of the University of Colorado.
Our governor, Bill Ritter, gave the keynote address. The state and the university system are focusing on key areas of excellence and opportunities for economic growth: tourism, sustainable energy, bioscience and aerospace.
Through my new position, I now sit on the advisory board for the technology transfer office of the university. As a scientist, I know that many of us are drawn into academic research for the pure joy of discovery. Invention disclosures and patents are not part of our thought processes. The idea of starting our own companies to develop commercializable products is rarely considered or it is considered something that someone else might do with our ideas.
How can I, as the executive director for one of our entrepreneurship centers, facilitate the transfer of the technology out of the university and into the companies in our communities creating jobs? How can we encourage and educate our students and faculty  to think about their research endeavors in a new way? I have been tasked with bioscience and building on our fledgling bioentrepreneurship program.
I love my new job.