I started my annual holiday card with "2016 was much like 2015 – same job, same man, same house. Dare I say stable?"
And while I like being on a schedule, this sounded boring even to me. So I dug through my calendar to figure out, beyond heading to the office, how I spent my time this year. There were several major themes: Fitness, Education, Entrepreneurship & Travel.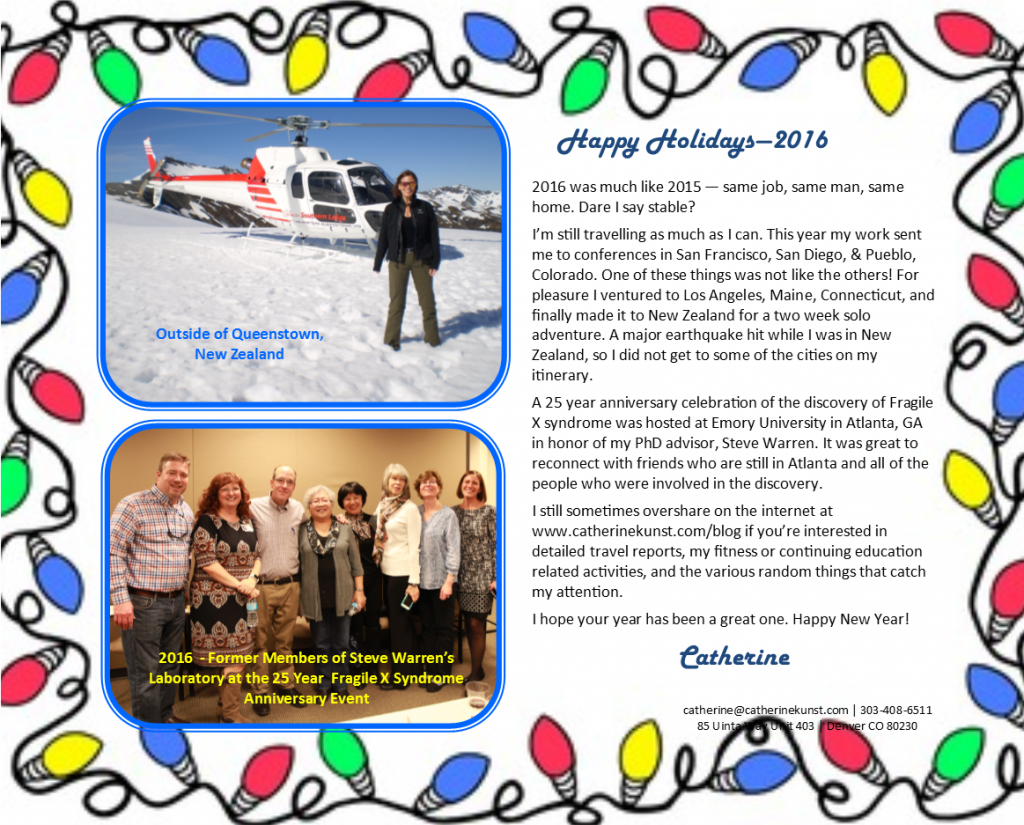 Fitness
Each year, I set health & fitness goals. I started a year of Precision Nutrition Coaching at the end of July. As part of that program, I started lifting weights, in addition to walking, running and going to hot yoga.
2016 by the numbers:
Distance Walked and Run: 3,630,642 steps or 1,617.24 miles. Average: 4.4 miles per day.
Hot Yoga Classes at Tula Hot Yoga Denver:  157 classes (235.5 hours!). Average about 3x a week.
Weight Lifting Sessions (since August 2016): 80. Average about 3x a week.
Inches Lost: 8.25
Pounds Lost: 8.8
Education
I like learning new things. And some of the certificates I've picked up require extensive continuing education.
Entrepreneurship
I've become pretty disconnected from the local entrepreneurial community, but I still got invited to do some fun things.
The University of Denver MBA program launched a new course where the students were building business plans. I was invited to serve on a panel reviewing their pitches along the way (October & November). Great fun.
I also reviewed Cade Museum Prize Applications (February). I love this Florida based competition that awards $50,000 each year to emerging innovations and inventions. It's a great opportunity for early stage companies, and I love seeing what is submitted.
Random
June: I attended my first Rockies game. They lost.
October: I went back to the University of Denver for the Grand Opening of the Knoebel Institute for Healthy Aging. My former post-doc mentor, David Patterson, has a new laboratory in the institute and was just made a fellow of AAAS. There were at least 3 poster presentations from his laboratory. The one he's standing with was crowd-funded by families interested in his specific research. Awesome!
Travel
I set travel goals each year. Typically my goals are (1) to keep my United Mileage Plus Silver benefit which generally means that my carry-on bag will have a space on the plane, and (2) to plan one big trip to someplace I've never been. This year was New Zealand.
Work Travel
San Francisco, California
April – DocuSign Advisory Council, DocuSign Momentum, even a VIP event at CEO's home! I still don't know how I made that invitation list.
October – Dreamforce & DocuSign Advisory Council Meeting
San Diego, California
June – Esri User Conference. Fantastic conference, in a terrific location. I it was great to catch up with some friends such as Irene Morton and her husband Michael; my old college study buddy Brad Cohen & his wife Robyn. Great to reconnect.
Pueblo, Colorado
Fun Travel
Los Angeles, California
Camden & Bar Harbor, Maine
August – Dinner with friends, looked at some boats. This was my first time in Maine, and everything, except for abysmal cell phone connectivity was exactly as I imaged it. Pretty place.
New Zealand
November – Auckland, Lake Taupo, Huka Falls, Napier, Hawke's Bay, Martinborough, Wellington, & Queenstown – I wrote about New Zealand separately. Fantastic place. I wish I'd had more time.
Essex, Connecticut
December – to check on a boat, a Hallberg-Rassy 31 that's getting some work done.  Not mine. But she is pretty and I hope I get invited to sail on her one day. Even in small towns, a great wine bar can be found, in this case at the Griswold Inn where a 1998 Chateau Mouton Rothschild was enjoyed. They also have amazing truffle fries. This was not a Precision Nutrition approved outing!
Atlanta, Georgia
December – 25 Year Anniversary Celebration of the Discovery of Fragile X Syndrome (link to PDF original article). This was a last-minute event to honor my Ph.D. thesis advisor Stephen T. Warren. A former post-doc of his (now faculty at Emory), and some of his staff arranged for all of us who were in the lab in 1991, along with many of his life long collaborators, to come to Emory for a celebration & day of science. I was 20 when I first met Steve Warren, and there are few people who've had more impact on the type of person I grew up to be, the type of scientist I became. I affectionately refer to him as my "scientific father" – but never to his face! We hadn't spoken in more than a decade, the last time one of his staff sprung a reunion on him, but his influence is still huge.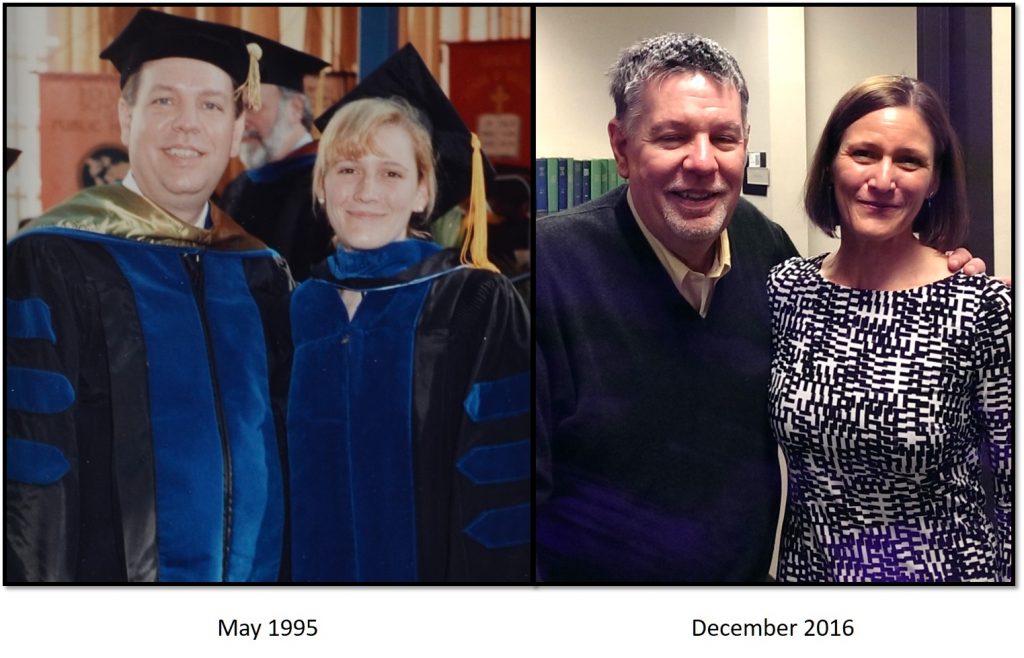 It was great to reconnect with people I had not seen in 20+ years. A big scientific family reunion. I was only in Atlanta for about 24 hours; I wish I'd planned more time. A big thank you to Peng Jin and Janelle Clark and others for making this happen. I was so happy to see Jane (my former roommate) and Heiner her husband, and so many others! I could double the size of this post gushing about the people, where they are now, etc. But I won't. It was a spectacular way to close out 2016.
I was also able to reconnect with my friends Ken Walker and his former assistant Brian (Toby) Hage (now a big time consultant). It was good to catch up with them. Ken is an incredible person, still practicing medicine at 80, and working tirelessly to revamp medical education in Soviet Georgia. Emory put together a great short video of the history of his career (below). Inimitable.
While it's not quite finished, 2016 was a good year.
Not so boring after all!