Christmas is apparently a big deal in Singapore. The decorations go on for miles.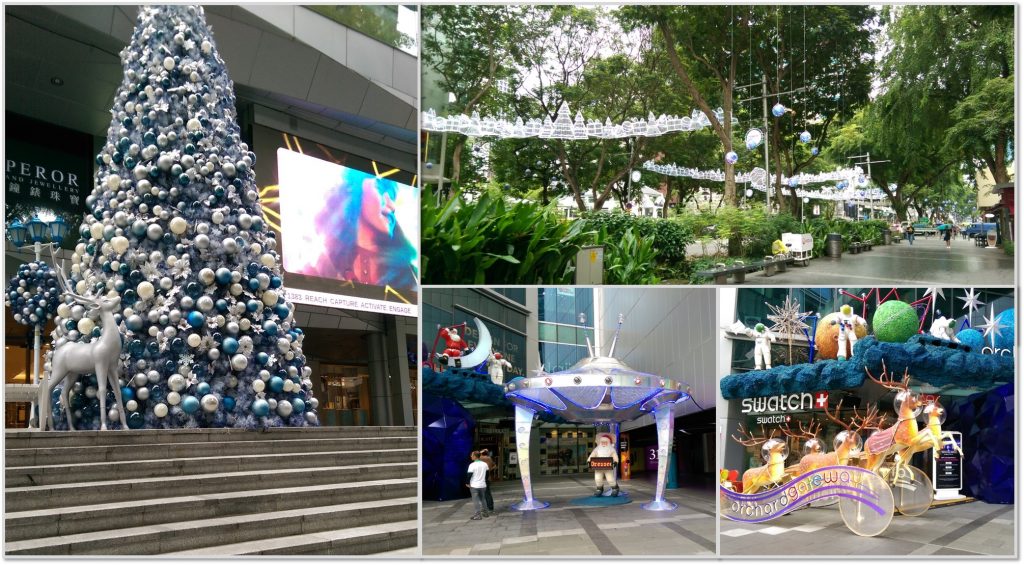 On Day 3, the person I was travelling with changed flights and flew home early. Definitely a life experience that I'd prefer not to repeat. I cancelled several upcoming reservations for two. I did not want to do any of the activities solo that we'd talked about doing together. I read Mark Manson's book The Subtle Art of Not Giving a F*ck. It was suitable reading for my mood, and not actually about *not* caring. It's more about focusing on values that matter. It's worth a second read when I can give it my full attention. Another workout was done in the amazing Four Seasons fitness center. I spent an hour by the pool during a brief appearance of the sun from behind the clouds. I found a grocery store, some protein bars, and a bottle of red wine. I slept for 12 hours.
Day 4 was another quiet day. I did another workout in the spectacular fitness center. I supported the local economy exploring the countless shopping malls on Orchard Road. I had lunch at the Four Seasons as my main meal for the day. You know you're dining at the hotel restaurant too often when the servers start calling you by name. The also brought me the gluten-free menu without my asking.
By Day 5, I finally pulled myself together. I'd wanted to visit Singapore for years and had just one day left. Another workout was done. First stop, lunch at Whitegrass, an Australian inspired farm to table Michelin one star restaurant. I went with the 5 course tasting menu with wine pairings.
Raw shaved Japanese yellowtail, white vereduna beetroot, land caviar, smoked organic soy (w/ sake)
Red braised Challans duck, eggplant cream, kanten noodles, water chestnut, Chinese jelly mushrooms (w/ a rose pinot noir)
Gently poached Fremantle octopus, garlic custard, fresh almonds, heirloom radishes, roast chicken and saffron broth (w/ semillon)
South Australian organic grass-fed beef, fermented black beans, raw mushrooms, ice plant, veal broth (w/ cabernet sauvignon)
Single origin Peruvian chocolate, wood roasted coffee, Pedro Ximenez prunes, shaved macadamia nuts, frozen chocolate (w/ port)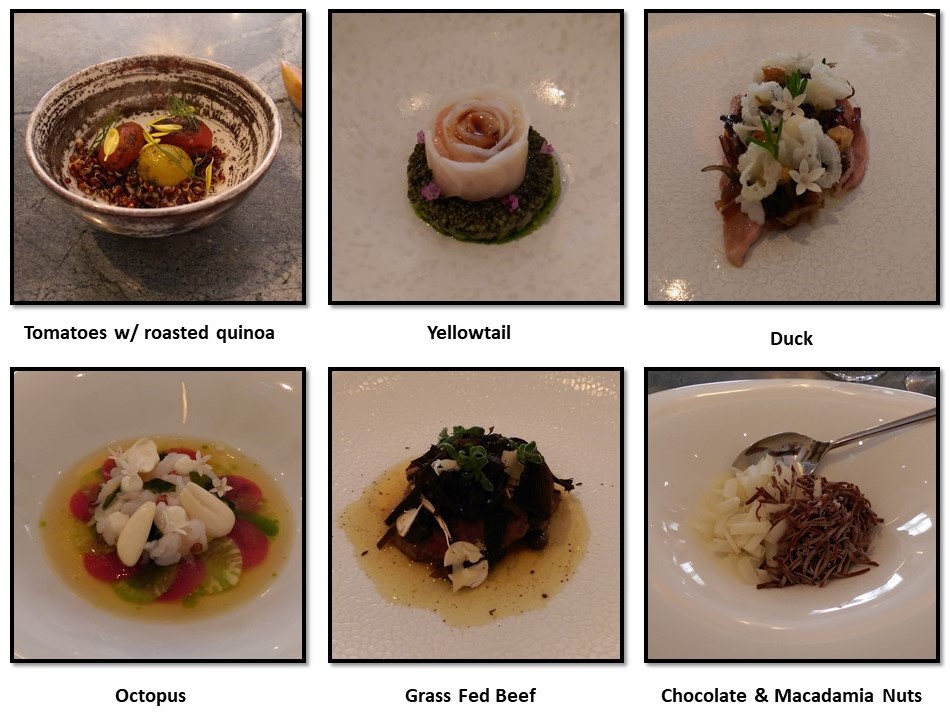 The food was great. This was the second restaurant in Singapore to serve Sake in a wine glass. I loved how they put flowers in almost every course, or made the food shaped like a flower. I was the only solo diner, and had at least 4 people attending to my every whim. One nice touch I hadn't seen before – while I was technically at a table for two – they'd removed the second chair so it looked like I was meant to be dining solo. Every table in the room was set with the exact number of chairs needed for each party.
After lunch I walked down to the Singapore Flyer – a very large Ferris wheel that takes about 30 minutes to make a single loop. It was Black Friday – everyone must have been shopping – so, I was allowed to have an entire car (must seat  25+ people) to myself. Of course I bought the kitschy tourist photo. There were no fireworks; it was day; and yes, they told me to spread my arms like wings!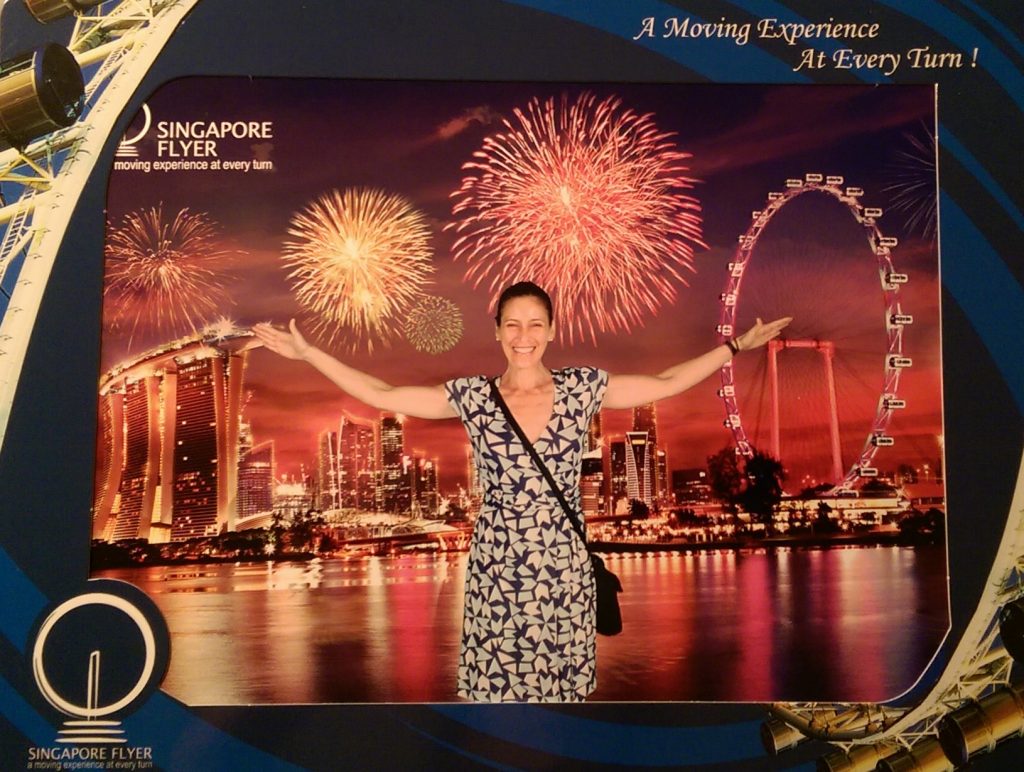 Even with the foggy haze, the views of the city were inspiring.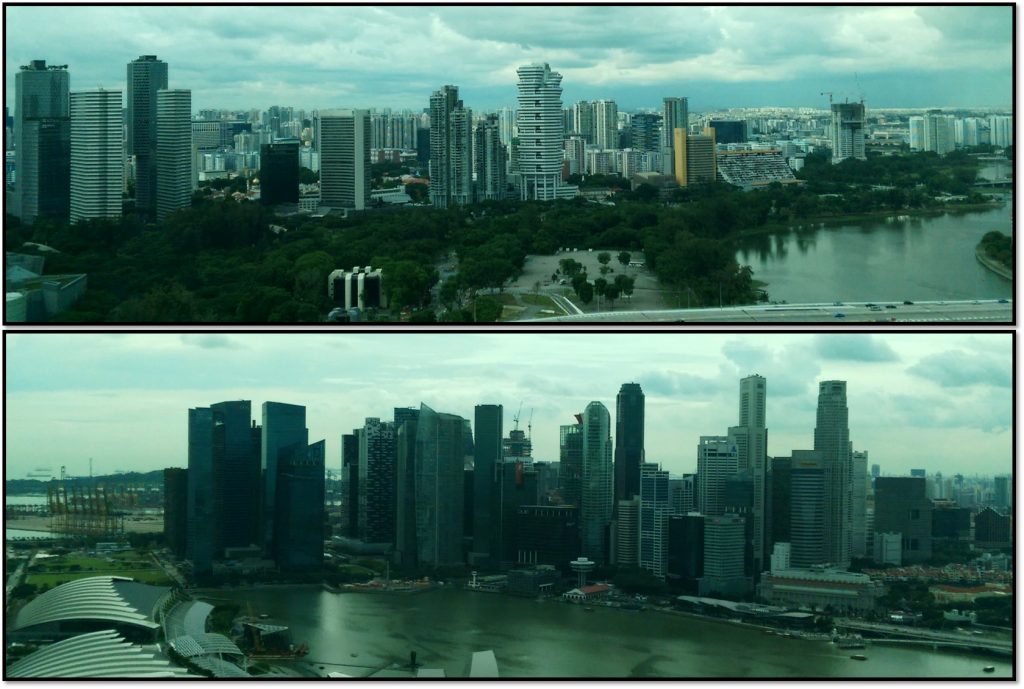 I walked back to the Four Seasons in the pouring rain. This was not the trip I imagined in my mind, but it was a good one overall.