Singapore has been on my wish list of places to visit for years. Scheduling my trip during the rainy season was perhaps not my best decision. They say you can be paralyzed by choice. In the case of Singapore the number of high end hotels is staggering. I finally settled on the Four Seasons. I'd never stayed in a Four Seasons before but so far I'm impressed. It's going to be hard to go back to my normal Hilton Garden Inn type of hotel. While their website says that they don't really do early check in (they recommend reserving one more night if you want to check in early), they let me check in at 7:30 a.m. They have the most impressive hotel gym I've ever used.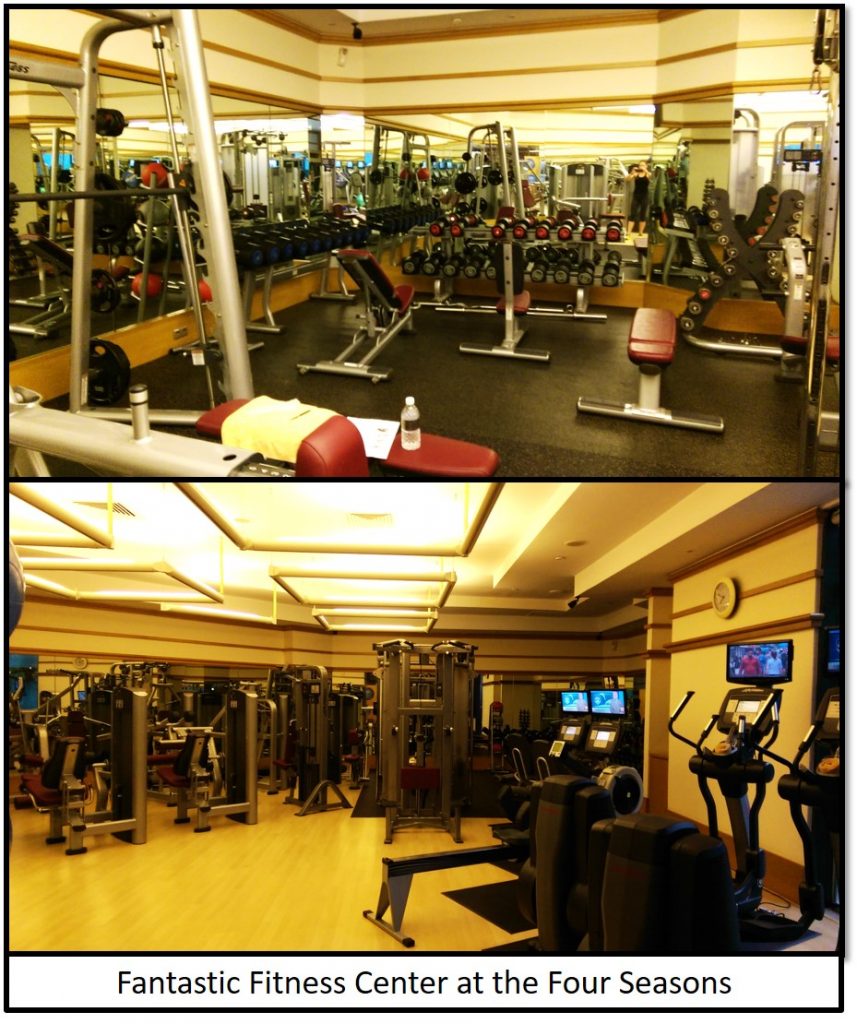 So far, the thoughtfulness of the service is surprising. Example, I'd been using a magazine as a mouse pad, so the room attendant left me a kind note and a mouse pad for my use. I love the attention to details!
Day 1 was sweltering (90 degrees, high humidity, real feel of 104). After my workout, the rain cleared, so I walked from the Four Seasons down through numerous shopping areas along Orchard Road, down to Robertson Quay, and along the river walk before heading past numerous government buildings & the National Gallery before making it to the historic Raffles hotel to have my first Singapore Sling.
Day 1 Meals: Lunch at one of the numerous Thai restaurants along the River Walk; Dinner –  I had a protein bar and an Asian pear from the hotel room. It was a sleep deprived travel day. I wanted sleep more than a real dinner.
Day 2 was cooler and rainy. I toured two exhibits of the Gardens by the Bay: the Cloud Forest  and the Flower Dome. The diversity of plants and colorful displays were spectacular.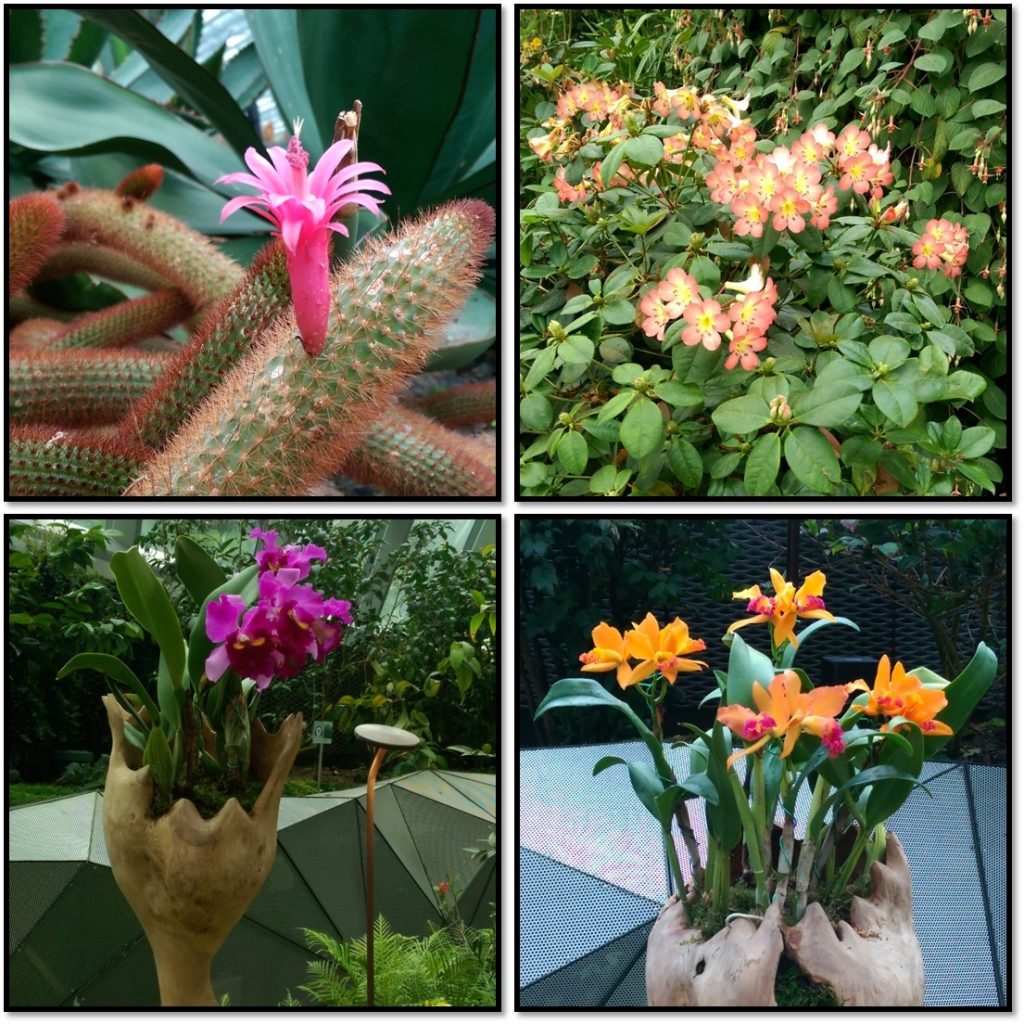 The Cloud Forest is based on a rain forest, complete with man made waterfall, and, as you might imagine was filled with all kinds of Orchids and other colorful tropical plants. Also I wished I had a jacket as the exhibit areas were very cold. I had goosebumps for most of the day.
The Flower Dome had exhibits from various climates – desert, Mediterranean, California, and endless holiday displays (poinsettias and Christmas trees everywhere). Interspersed among the plants were various art exhibits. My favorites were crafted from the roots of trees.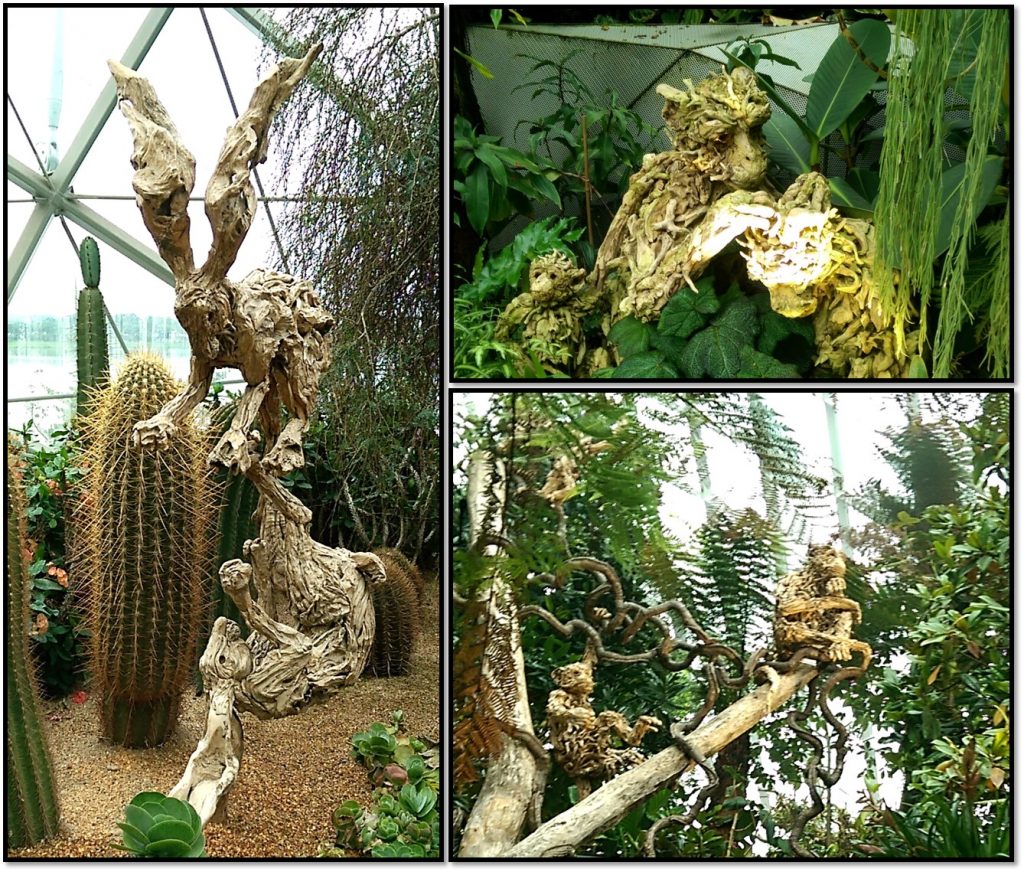 Day 2 Meals: Breakfast buffet at the Four Seasons – great selection of foods from around the world. Dinner at Waku Ghin, a Michelin 2 star restaurant.
The Waku Ghin meals starts by having your chef show you where your dinner is going to come from. At least one of the lobsters was still moving.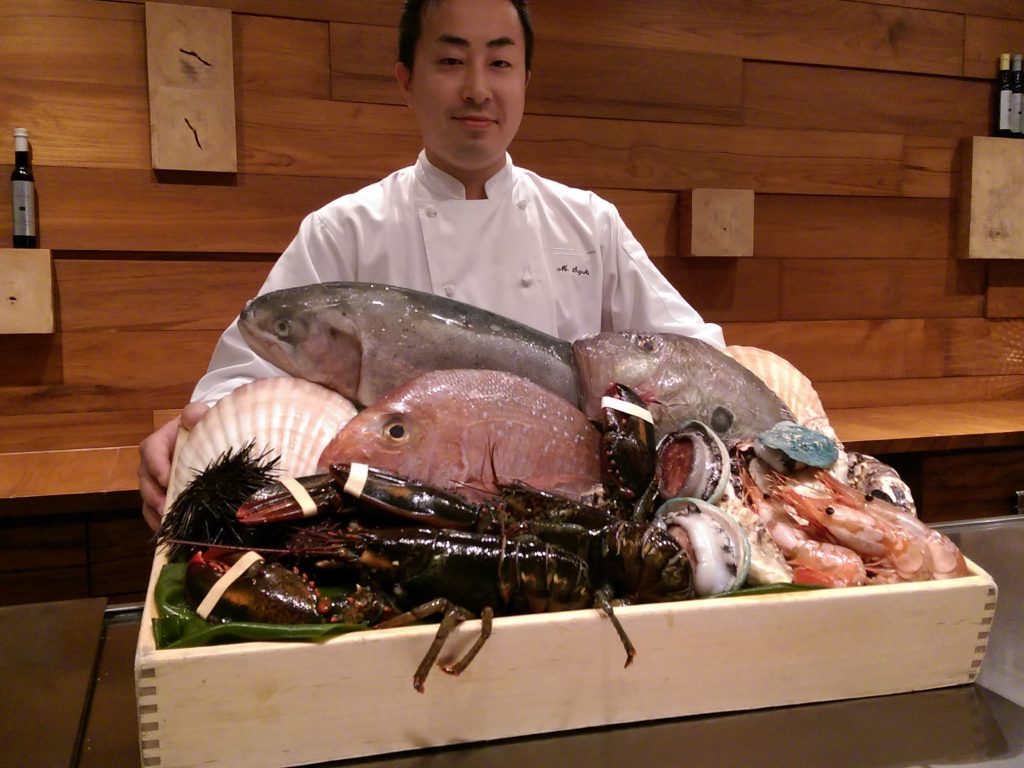 The sake I selected was delicious and based on their recommendation: Isojiman Daiginjo 2015.
Dinner
Canadian Oyster with ginger, rice vinegar, and finger lime
Carpaccio of Leather Jacket (a kind of fish) with Bitter Salad
Marinated Botan Shrimp with Sea Urchin and Oscietra Caviar
Pan-Seared Tachiuo with Foie Gras
Tasmanian Abalone with Aonori
Braised Canadian Lobster with Tarragon
Charcoal Grilled Southern Australia Grass Fed Tenderloin Beff with Tetsuya's Wasabi Mustard
Japanese Ohmi Wagyu from Shiga Prefecture with Wasabi and Citrus Soy
Steamed Rice with Snapper, Consomme
Gyokuro (very strong green tea)
Dessert
Japanese Musk Melon with Contreau Granita and Fromage Blanc Sorbet
Rice Pudding with Mango
Petit Four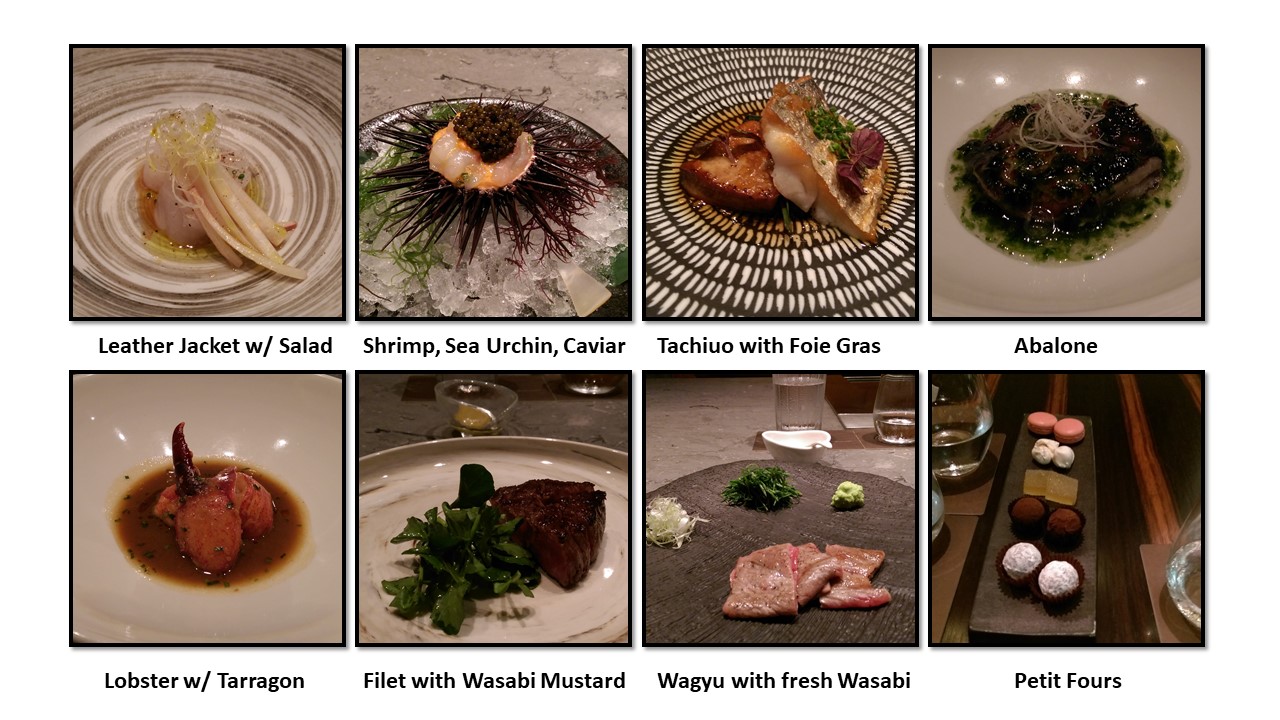 They made the menu gluten free for me, so my preparations were slightly different than what the honeymooning couple sharing the room had, but the main protein sources were the same. My mango rice pudding replaced the amazing looking Chocolate Mousse with Vanilla and Macadamia. The Abalone preparation for others had Fregola and Tomato (looked delicious, Mediterranean style) vs. my very Japanese version with lots of seaweed. While some courses were prepared in the back, the majority were prepared on the cooking top to the right of the chef in the photo. The shrimp, sea urchin & caviar dish is apparently their "signature dish." I'm not typically a huge Uni fan, but this preparation was fantastic. I also don't typically love Foie Gras, but they'd grilled it which changed everything in an amazing way. The broth on the lobster course had both butter and olive oil. Delicious. Both preparations of meat were melt in your mouth good.