Dave Cheong, who is writing again after taking break when his  child was born, wrote a wonderful article entitled Embrace Change, Your Life Depends on It. Wow.
There are very few people who naturally adapt to and embrace change. It is in our very nature to resist and fight. To keep the status quo. Change is scary. For those of us who like stability, all changes, even good changes, can be incredibly frightening. I fight this fear every day.
My own organization and I have been in a constant state of change since 2003. Acquisition by a local university. Changes in job expectations and duties. Change of Director. Death of Founder. Layoffs. Planned move to campus. More Layoffs. Search for a new Dean to oversee us all. I think it is fair to say that even those of us who are driving some of these changes feel a bit overwhelmed by the chaos of this process. Thus, Dave's article was incredibly timely. He introduced me to the Satir Change Model (link to an article by Steven M. Smith describing the model that is outstanding).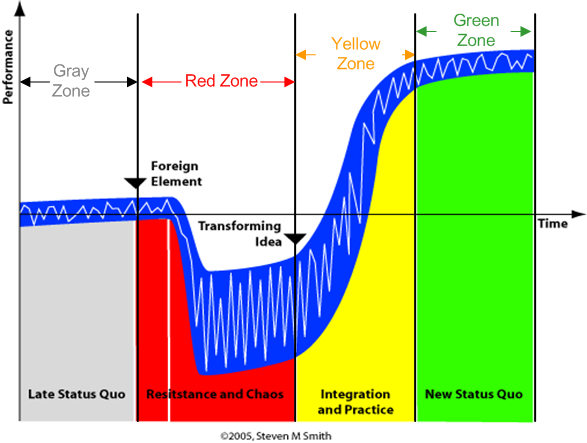 I found this specific image of the model (also Copyright by Steven M Smith) here.
My own organization is muddled in resistance and chaos (also known as the pit of despair). There are many transforming ideas, but they have yet to take hold to to be integrated. I strongly support all of the changes that have been happening as I can see how they will lead to the new status quo, which will be better, but it is hard to keep that in mind when one struggles with the chaos.
Let me end with a quote from Dave:
To change your life for the better, you have to introduce a Foreign Element, trigger or change agent. Shake things up. Do things differently. Adopt an improved mindset. Be a different person.

Your life depends on it.