North Island Days 5 – 7, Hawkes Bay & Wellington
Travel: Drive 2 hours – Huka Falls to Napier (Hawkes Bay)
More rain, cows, sheep, goats, rolling hills, roundabouts, & lush green pastures.
Lodging: Pebble Beach Motor Inn. Good location, great views, friendly staff, clean, full kitchen in room, enormous Jacuzzi spa in the bedroom, free parking, strong free wifi, and the most rock hard bed I've ever slept in.
I hit the grocery – most meals were roasted chicken & rocket (arugula) +/- a corn tortilla +/- some cheese. Almost everything in the supermarket was free range and/or organic. Country of origin was noted on most meat, fish and produce.
There were extensive foot paths with fitness stations interspersed along Hawkes Bay. These seem to go on for miles and miles. Napier was sunnier and warmer than my first two stops. It was great to walk around in just jeans and a t-shirt.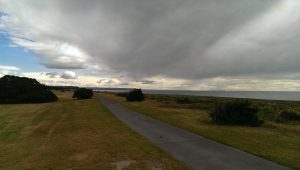 Touristy things:
Wine Tour: The clerk at the hotel recommended a multi hour drive and about a dozen vineyards worth stopping at. I did the drive but only stopped at Craggy Range for a wine tasting. Good choice. One bottle procured. I've been sticking to the Central Otago Pinot Noirs.
Ocean Spa: I stopped at Ocean spa as it's in all of the guidebooks. It's a big indoor water park. I was more interested in their fitness center, but access to fitness equipment was expensive, especially with the trails, and fitness stations available for free. If you have kids that like water activities this seems to be the place to go.
Travel: Drive 3  hours – Napier to Martinborough
The drive was like the others with more cows, sheep, goats, rolling hills, lush green pastures, and rain.
Lunch in Martinborough: Café Medici – Asian Slaw with Grilled Calamari & an espresso. Good food. It was a very nice place to stop driving. Apparently there was a wine festival starting that evening.
Travel: Drive 1  hours – Martinborough to Wellington
The drive started the same with more cows, sheep, goats, rolling hills, lush green pastures, rain, and there was a new twist – literally – crazy twisting roadways up and down a hillside cliff. You know those roads that motorcyclists love to lean into the turns on? Well these had signs warning motorcyclists that the road was too dangerous! So pretty.
Lodging in Wellington: Bolton Hotel – Nice place, not part of a chain. I booked it using Chase Sapphire points, like they do on those TV commercials. I had a suite, with multiple rooms including a full eat-in kitchen, living room, bedroom, & bath. Good fitness center. Good location with an easy walk to museums, a major shopping area & the water front.
Wellington was the first place I saw earthquake damage. Wellington was hit fairly hard with damage to numerous buildings, several newly constructed after the last big earthquake. There were many news headlines about the new buildings, which should have been able to hold up to this earthquake, failing to perform as expected. Construction & detours were extensive. Many areas were cordoned off.
Dinner: Artisan Restaurant  (at the Bolton) – Market fish, pan fried on saffron risotto with chorizo stuffed baby squid and piquant sauce; roasted beetroot with balsamic, almonds, feta and rocket, & a glass of Wooing Tree Pinot Noir (Central Otago Region of course). It seemed like they were trying too hard to be creative with this mix of textures and flavors on the entree. The salad was very good, the fish fresh was perfectly cooked, but the rest was a bit strange as combined.
Breakfast: Astoria –  I walked around Lambton Quay looking for a restaurant that had a big queue of people. This was the only one I could find that had a wait. The food wasn't fancy, but the portions were generous and satisfying – scrambled eggs, bacon, gluten free toast, & thick coffee. They call it a "tall dark" here – I am not sure about the tall, as all coffees are small or smaller, but they are strong. Side note: the bacon in New Zealand is amazing. Thick cut, lots of lean. I've been eating bacon almost every day.
After this brief visit in Wellington it was time to head to the airport to return the rental car, and fly to Queenstown.
End of North Island tour. Heading south, but now skipping Marlborough, Christchurch & Dunedin due to earthquake damage.