A few months ago I mentioned that I needed a traveling companion for an excursion to Napa Valley that I "won" in a silent auction at an event for  Dani's Foundation.
Wow! I returned early Tuesday morning and I am still thinking about what a wonderful time I had.
I flew into Los Angeles on Thursday evening. My flight was delayed and just about every flight mishap that could happen did. In spite of the ominous start, the rest of the trip was simply outstanding. The weather was terrific – mid 70's or mid 80's and sunny the entire time. Everything else transpired without mishap.
My traveling companion and I drove up route 1 stopping in Big Sur at Nepenthe for lunch. What a magnificently pretty drive. We arrived in Sonoma in time for a delicious dinner at the Eldorado Kitchen before settling into the Fairmont Sonoma Mission Inn & Spa. I learned later that Boyes Spring is a bit past its prime, but the Fairmont was a beautiful place to stay and had a terrific fitness center.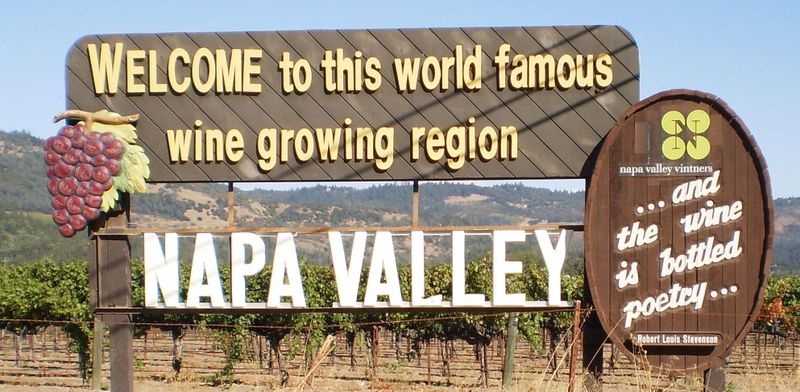 Friday we drove around the Sonoma & Napa Valleys stopping in at Hess (to see the museum), Stag's Leap, Clos du Val, and Twomey. Of these, Twomey was by far our favorite for the quality of wine and the tasting experience. Just about all of the vineyards charge for a tasting; however, we learned that if you just wanted to taste a single varietal (e.g. "just the cabernet please") or ended up buying some wine that these fees might be waived. In general, portions are large enough to share so I highly recommend doing that as some vineyards had more that one tasting package and many are willing to pull together a package that suits your tastes (e.g. "just the reds please").
Friday afternoon we checked into the Meritage, the resort & spa I "won" in silent auction. The Meritage was tucked into an office park and so one view faced office building and the other a vineyard. In spite of the location it was new, immaculate and had all of the amenities one might hope for as a business traveler (bare bones gym, free wireless internet, 24 hr everything, etc.). That evening we enjoyed our Wine Train experience. I'd recommend doing this at lunch or mid-summer so you can enjoy the views out of the windows. It was fun if kitschy. And while great wine can be purchased on board, you might be better off bringing your own and paying the corkage fee.
The next day we explored Napa Valley in the back of a comfortable sedan hosted by Beau Wine Tours again as part of the silent auction package. I suspect that this may have led to the first and I hope last time I start drinking at 10AM. We started at Duckhorn, which makes several wines that I knew I loved. In terms of easy to access vineyards, Duckhorn was the highlight of the trip for me. Great wine, wonderful experience, terrific service, etc. From there we moved on to Prager Port Works, Cakebread & Salvestrin. The people at Salvestrin were terrific, giving us a tour of their wine making areas and process. The tawny port at Prager was excellent but not a part of their normal tasting package. Cakebread was somewhat disappointing. I've enjoyed their wines at several restaurants but the experience (and wine) was not on par with some of the others we had on this trip. Service matters and while I was a customer in the past, I suspect that I will not be in the future. Their loss really as I went in expecting to buy and to have a wonderful experience.
If the trip stopped here it would have been excellent, outstanding even. However, from this point forward, the trip veered into the surreal. So utterly outstanding that I barely have the words to describe it.
Sunday evening was filled with wine and a tour at the Napa Valley Reserve – beautiful grounds, an inspiring cellar & caves in process and incredibly delicious wine. We followed this treat with dinner at the Press in St. Helena. I never thought I'd say this but have the chicken! Really. Amazing.
We woke up early Monday morning to head to the Infineon Raceway in Sonoma where I enjoyed the Audi Sportscar Experience and got to drive the Audi R8 5.2 FSI quattro with its "soul stirring" 525 hp V10 engine on the track.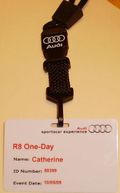 My traveling companion and I shared a private lesson. We each had our own car. I really did not want to get out of mine.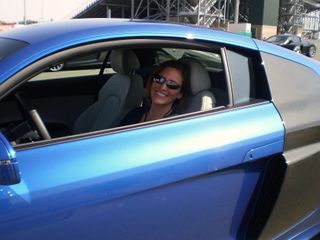 This was a very high tech experience. We inserted flash drives into the cars' computer for our final laps on the track. In theory they'll send an email when we can view our laps on-line. I suspect they'll look something like this:  You Tube. The goal is to keep 1 to 1.5 car lengths between your car and the instructor's car. I know that my gap was too large for most of my laps (much like the linked video). The cones on the track mark the turns and apex. Helpful. As you can hear, the instructor coaches you (or in my case, makes fun of you!) through the track, commenting or giving guidance or encouragement as needed. I had no clue I'd enjoy this sort of thing, but I'd put the experience among the top ten days in my life.
Joy. Bliss. Fun.
I want to do it all again!