I reconnected with serial entrepreneur Toma Bedolla after I moved back to Colorado this fall. Among his many endeavors, he co-founded House of Genius in the November 2010 in Boulder, CO.  While there are almost countless meetups and networking groups that serve entrepreneurs in the Denver/Boulder area, the House of Genius format is unique as the presenters and panelists are hand-picked by the organizer for each session.
Even participants such as Brad Feld, an internationally recognized thought leader on building entrepreneurial ecosystems (e.g. book, Kauffman Foundation presentation), raved about the House of Genius session he attended.
House of Genius has now spread to Denver, Boulder, Reno, San Francisco, Seattle, Singapore, Austin, New York City, Seattle, Santa Monica, and Albuquerque with requests for new cities coming in almost daily.
The video below was filmed after a recent House of Genius meeting in Seattle.
House of Genius Seattle Testimonials from Josh Anderson, organizer for Seattle House of Genius, on Vimeo.
Every person I've met, who is affiliated with House of Genius, is equally committed to and enthusiastic about the unique experience created by House of Genius.
Toma and his co-founder Tim Williams have been nurturing House of Genius while running other companies. This week I started a 90 day engagement (with the possibility for extension) with House of Genius as the Executive Director to help them prepare to spread to 100 cities over the next 24 months. Fun.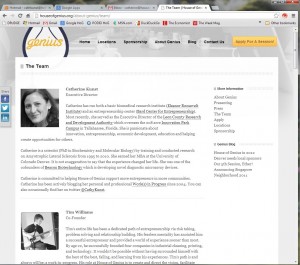 Sign up to attend a session. Or contact me to find out how to bring House of Genius to your city.