I fell down the rabbit hole. I found a draft with this title from more than a month ago, but it's been percolating in the background for most of the last year. In my current job, we use and/or are resellers of a number of powerful cloud based tools – Esri Arc GIS online, Salesforce, DocuSign, Google Apps, etc. All of these are becoming "platform" technologies – what would you like to build on them? And they ask how you imagine them, how would you like to integrate them, what other databases would you like to pull from, how would you like to visual the data, how would you like to analyze the data – the possibilities are essentially limitless. The scientist in me, who remembers a time before the internet existed (now it's a human right), when data analysis was done by hand or at best with a calculator with scientific formulas, is so utterly joyful at the possibilities that exist today and that will surpass them tomorrow. Also I am OLD.
When my boss left in July to take a private sector job, I became the technical administrator of pretty much everything. And I have been doing my best to immerse and absorb all that I can. My Daily Rule #1 – Don't break Salesforce. I just can't stop customizing it; see Rule #1. I am finally using my "sandbox" for testing before I go to production.
I first heard of the "internet of things" (pdf link) in January at the Public Sector CIO Summit hosted by Esri in Redlands, California. The speaker Steve Ressler (Gov Loop) was good; the resources at GovLoop (at least for governments re: industry trends) are fantastic. And I'm hooked on my "Gov Loop Daily Awesome". Yes. Really.
I learned more of what was possible at the DocuSign Momentum conference in San Francisco in March. And why yes, I feel the DocuLove. (You had to be there). DocuSign is a fantastic product/platform but it is also a bit cult-like and I've fully consumed the spiked cool-aid when it comes to DocuSign. Just about everything we do in the office that has a work flow or approvals or signatures now runs though DocuSign.
In July at the Esri hosted Business Summit & User Conference in San Diego, I started to visualize the possibilities around big (open) data and mapping and analytics. Great use cases were highlighted such as the plan to finally eradicate polio, globally, and how to use mapping to find that last village, last child in need of immunization. Would you like to rent satellite time to image your favorite neighborhood to the square foot, sign up now (powered by Airbus). Need to add in census data, traffic, whatever….click, "enrich layer." I love what Esri is doing for education. See what these elementary school student can do:
.
In October I attended my first Dreamforce conference in San Francisco. 125,000+ people all for one conference. Their shiny new WAVE analytics platform was showcased complete with the relevant Hawaiian themed opportunities.
As was the Salesforce Lightning platform to expedite coding and custom development. I would watch the demonstrations and on the inside I was shouting "me, me, me….I want that." I am still contemplating the possibilities and how to make the business case for bringing these tools in house.
In the meanwhile, I've just completed my very first MOOC on Spatial Analytics, hosted by Esri, of course. Powered by Udemy. Great platform. Interesting course. If you want to check out the Arc GIS tools, you can get a free account or get  on the waiting list for the next round of the MOOC here.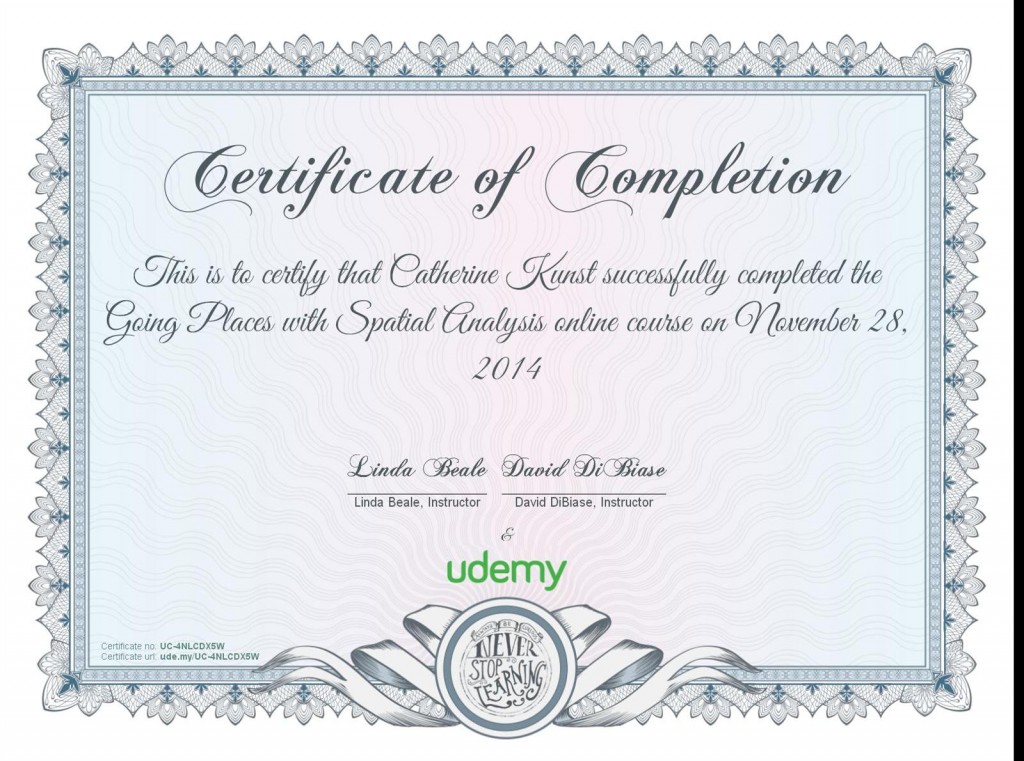 The scientist in me wants to use these tools for EVERYTHING. Access to data is no longer the problem. What question do you want to ask? What platform should you host your data in? What question(s) are you trying to answer? How would you like to visualize your data (maps/Esri, dashboards/Salesforce, etc.)?
It seems that all of these tools play nicely together. DocuSign integrates with Salesforce & Google & whatever you need it to (Office 365, etc.). Esri has just launched their integration with Salesforce and has robust add-ons for most Microsoft office products (excel, power point) where map/data visualization is important. Need your mobile devices or health trackers to send/receive data to/from these platforms, most of them easy standard integration. I love this.
So of course I picked up the Fitbit Flex this week. In my mind it all ties together – Internet of THINGS, analytics, dashboards, data… More on the non-work-related fitness tracking later. I am happy to experience this convergence of tech, tracking, data, visualization, analysis, etc. It's only going to get better.