I recently took a quick trip to Guam (photo from Cetti Bay).
Let's start with the serious:
There are many memorials around the island that date to the Japanese occupation during World War II. The US finally ousted the Japanese in 1944. It's the first place I've seen warnings about undetonated old bombs and shells at a US National Park. The main tourists to Guam are from Japan so most signs are at least in English and Japanese. Some cover the other major languages that visit – Korean, Mandarin, Russian.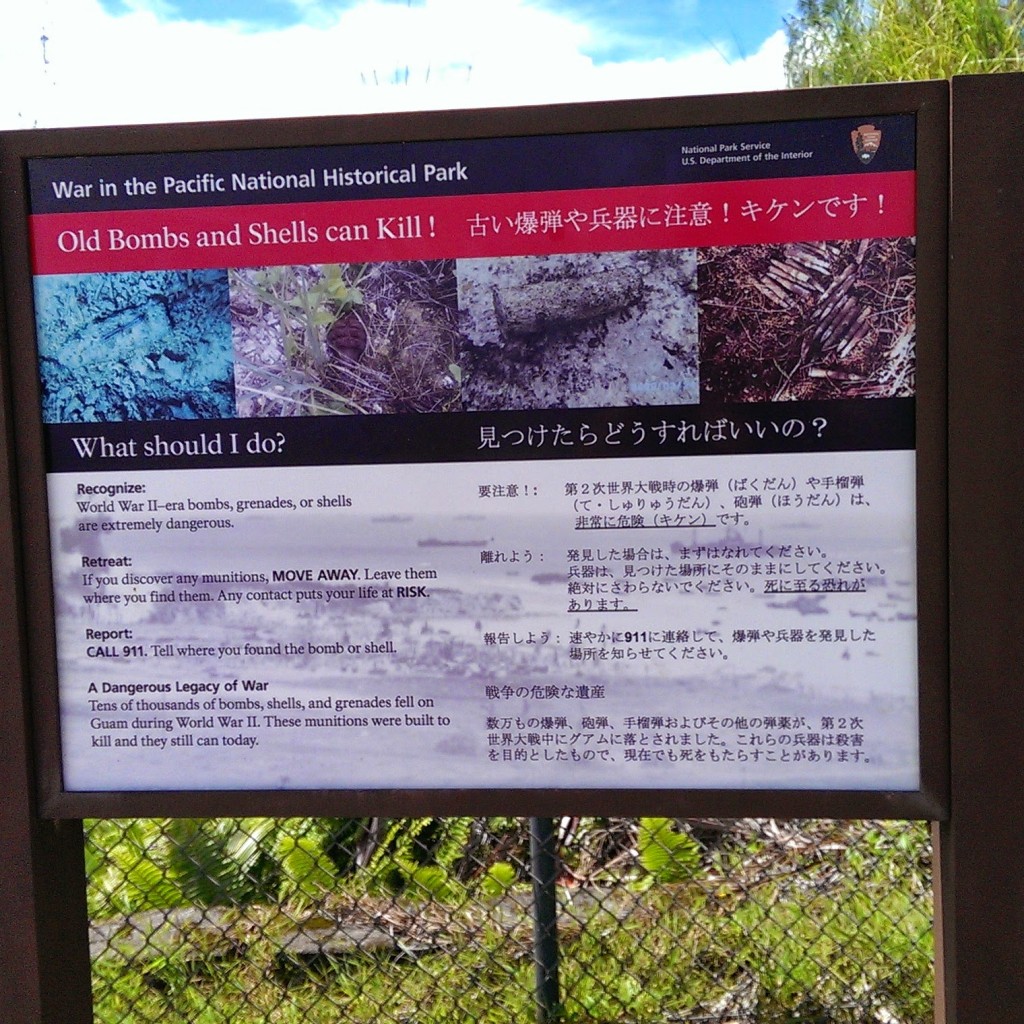 To quote Wikipedia:
"Guam's Japanese occupation lasted for approximately thirty-one months. During this period, the indigenous people of Guam were subjected to forced labor, family separation, incarceration, execution, concentration camps and forced prostitution. Approximately one thousand people died during the occupation, according to Congressional Testimony in 2004. Some historians estimate that war violence killed 10% of Guam's some 20,000 population.
The United States returned and fought the Battle of Guam on July 21, 1944, to recapture the island from Japanese military occupation. More than 18,000 Japanese were killed as only 485 surrendered. Sergeant Shoichi Yokoi, who surrendered in January 1972, appears to have been the last confirmed Japanese holdout in Guam. The United States also captured and occupied the Northern Marianas."
Yeah. That. I have no frame of reference. Guam is beautiful, still dangerous, and there are still people alive whom I've had a chance to meet who were impacted by the occupation.
I have first world problems – traffic, extra special security screening at airports, waiting in lines at hotels, ooh and my water heater stopped working the day I left for vacation. Cold shower with sterile water. The agony. Small things.
Day 1 – DEN to LAX to HNL – Aqua Aloha Surf Hotel – Waikiki Beach
Location – good (about 3 blocks from the beach); sheets – clean; showers – rusty; towels – clean; water – hot & potable; price – great; balcony view – good. I stood in line to check in for about 30 minutes as a gaggle of angry women were complaining about the cleanliness of the rooms and showers. There were only two people handling check-in and they were both handling the angry women. Hotel was as expected overall based on the reviews at hotels.com and yelp. Beach walk and dinner with a friend I had not seen in half my life, literally. Twenty three year later (I'm 46) I had dinner with him and his kids (ages not quite 1 and 3). His wife bailed at the last minute. I'd still like to meet her. Maybe next time. It was great to see him, and meet his sons, and walk the beach.
I love these trees.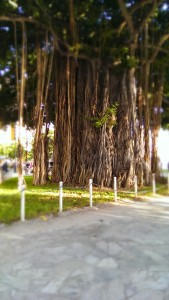 Day 2 – HNL to GUM
Morning run on Waikiki beach, about 3 miles, so many pretty people. America may be getting fat but Waikiki beach was filled with fitness inspiration. I lost a day on the flight. Departed 2 p.m. Friday; arrived 6 p.m. Saturday. Off to dinner with my friend's family. I had not even checked into my hotel, had no idea if I had a refrigerator, but already, taking home Balutan was expected. There is really nothing like Balutan in the traditional American experience. Taking a plate or a slice of pie home does not even come close to covering it. These two blog posts capture the idea of what I experienced. Basically if you invite say 5 people to dinner, you will make food for 20, and after eating send all of the leftovers home with the guests. And even with all that, the host will worry whether you have gotten enough. Every time. Every meal.
Slept deeply at my hotel – Westin Resort Guam – at one end of Tumon Bay.  On the beach, free parking (you can valet but guest parking is 100% free in the attached garage), typical resort hotel.
Day 3 – Guam
3.5 mile beach run. This picture captures my daily run along Tumon Bay. I ran from where the photo was taken to the tip of the point and back.
Breakfast of leftovers at my friend's mom's house; driving tour of the island; "surprise" party for my friend's mom's (80th) birthday and brother's (40 something) birthday at the Venue (owned/managed by the birthday brother).
They had a photo booth area for the party. Yes, I'm an Amazon compared to the beautiful women of Guam. And yes I was scrunching down as low as possible and still towered over these petite women.
Day 4 – Guam
Run 3.5; Breakfast of leftovers at my friend's mom's house; Beach Day spent Stand Up Paddle boarding. Parrot fish caught that day & steaks for dinner. Everything revolves around the meals. I'm not complaining but I could barely run enough to keep up with the volume.
Day 5 – Guam
Tired, only ran 2 miles. Had Breakfast at Linda's Café – Chamorro Omelet, Chamorro Fried Rice. Good coffee. What's in a Chamorro omelet you ask? Why Chamorro sausage. What else? More Chamorro sausage. Ditto on the fried rice. Walked 3.5 miles later that afternoon. I love that just about every bus stop has been "adopted" and made unique. It's all part of an island beautification program.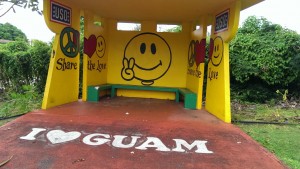 Big family dinner at Delmonico –  I had the local style flank steak for dinner. Good stuff. More than generous portions
Day 6 – Guam
Run 3.5; skipped breakfast – seriously – it was time to skip a meal.
Lunch at the Gecko at the Reef Hotel.  Great views. Continued touring the Island. Dinner from the ABC store (these stores abound in Hawaii & Gaum). Wish we had them in Colorado. They are more prevalent than Starbucks and stock anything you need – adult beverages, souvenirs, sun block, snacks, some freshly prepared foods, etc.
Day 7 – Guam
Run 3.5; Walk 2.0
I finally had a true tourist day. I explored the Under Water World Complex – sharks and turtles and invertebrates, etc. Walked around the Tumon Bay shops, including the massive, mall sized duty free store – Rolex, Chanel, Coach, Prada, Ferragamo, etc. all in one massive air conditioned shopping center.
I enjoyed a Thai food lunch at Ban Thai and Korean food for dinner with two of the lovely women in the photo above. I'm not sure where, but it was fantastic. And seriously, any meal with Soju tends to be good.
Day 8
Taxi to the airport at about 4 a.m. Long travel day. GUM to HNL to LAX to DEN. Home.